Permeable Paving Solutions
Geosynthetics can provides several cost-effective solutions for permeable pavings in all kind of projects, GreenScape porous paving systems are engineered to provide a permeable pavement surface for all types of traffic, from walkways, lightweight driveways, occasional up to regular usage heavy goods, trucks and lorries. Our systems allow full water penetration and are suitable as source control for sustainable urban drainage systems (SUDS) and areas where drainage is poor.
GreenScape permeable paving systems are:
EcoPaver Grid
BodPave – EcoPave – TruckPave 
GreenScape EcoPaver grids consists of three main types of tightened and reinforced paver grids for any kind of applications which are BodPave,

 

EcoGrid and TruckPave porous pavers, we will provide short description for each type below
BodPave grids are strong interlocking 100% recycled cellular porous plastic paving grid systems for grass reinforcement, ground stabilisation & gravel retention for regular trafficked surfaces (pedestrian and vehicles). BodPave grids comes in two models which are BodPave 40 and BodPave 85 each with different technical properties. BodPaves can be installed with either a grass or gravel filled surface. BodPave permeable pavers are manufactured in the UK from UV Stabilised 100% recycled HDPE and are strong, chemically inert & non-toxic. BodPave porous paving provide a durable, safe and eco-friendly surface for trafficked areas, it is a cost effective solution to worn & rutted grassed areas, displaced gravel and for source control of surface water run-off. BodPaves grass and ground pavers have a load bearing capacity up to 400 tonnes/m². 
For more information please click on the link below to visit the product page
BodPave
EcoPave is the openwork grids made of plastic derived from 100% recycled used for surface treatments for roads, parking lots, strengthen the lawn. It is an alternative for paving, replace concrete hollow slabs. When filling up the grid and fill the earth with vegetation, the roots are protected by the walls of EcoPave, and the surface is strengthened and moves loads up to 350 tonnes per sqm. EcoPave does not disturb the natural vegetation. Also the grid can be filled with gravels or aggregate. Surface floors EcoPave can be classified as biologically active area. EcoPave comes in 7 models differ in height, shape and strength which, are used for different purposes.
For more information please click on the link below to visit the product page
EcoPave
Manufactured from recycled plastics, TruckPave cellular paving is robust, durable and capable of withstanding all levels of traffic up to and including coaches, dustcarts and HGVs. TruckPave's cells can be filled with either grass seed/topsoil or gravel, making them suitable for stabilising areas where a grass or stone surface is desirable. TruckPave pavers are the economic, environmentally friendly and a lightweight alternative to concrete grasscrete-type pavers. It comes in two models TruckPave 80 and TruckPave 100 with different technical properties.
For more information please click on the link below to visit the product page.
TruckPave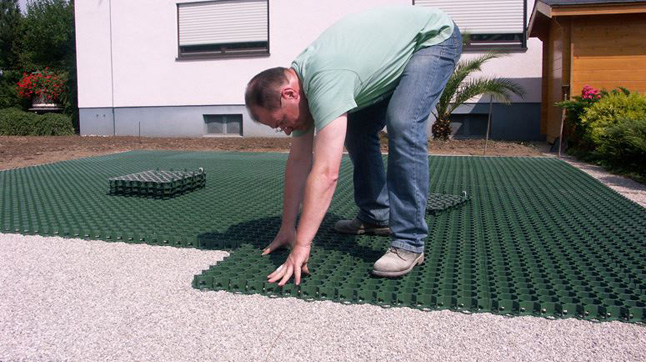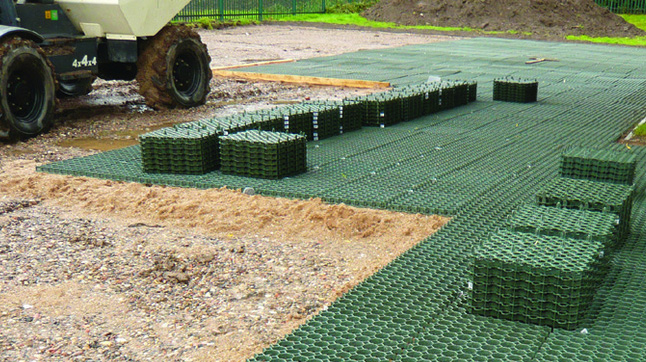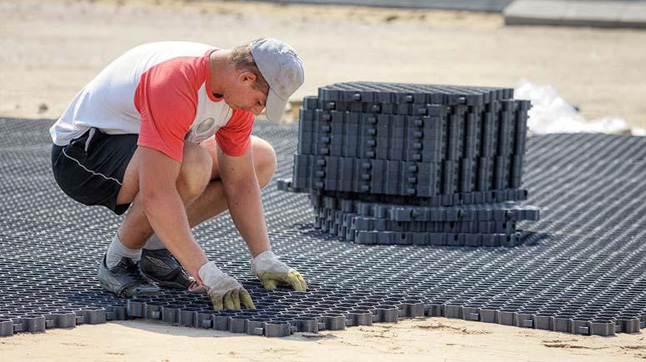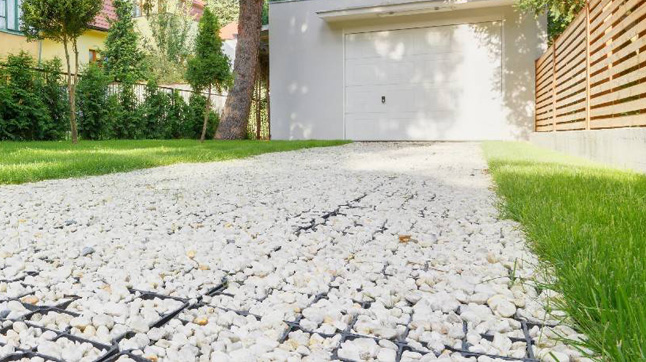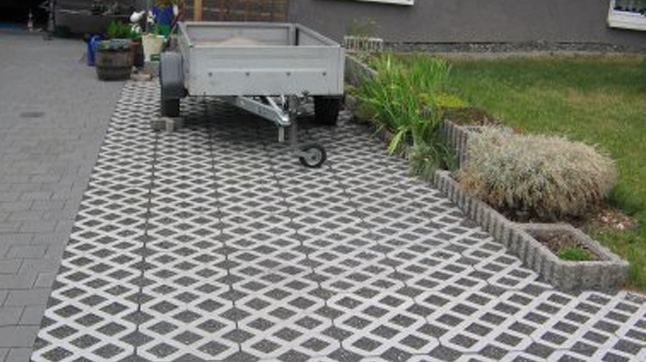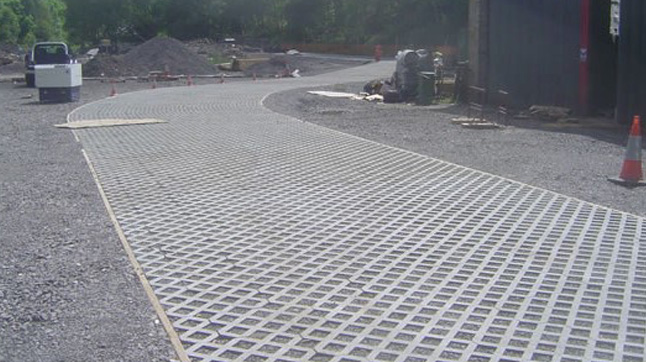 Reinforced Loose Gravel
It is possible to use loose aggregate or gravel for pathways or even sometime for parking and driveways inside landscape projects. This is more conventional alternative to the EcoPaver grids, but to treat it properly we supply two additional use as underlay layers of the loss gravel which are appropriate type of Geotextile and geogrid.
The Geotextile function in this system will separation mainly to prevent intermixing between the loss aggregate layer on top with the sub-base and soil down to the layer. Furthermore, this geotextile layer bring additional reinforcement to the paving structure and due to it is permeability feature it will be helpful to drain out the rain water and increase ground infiltration, as a result this system also can be considered as one of the SUDS systems.
The geogrid roll will be reinforcements, we use Tensar TriAx for this purpose. Tensar has radically re-engineered the fundamental structure of geogrids to create the revolutionary TriAx, based on one of the most efficient and stable structural forms (triangles). Whereas the tensile stiffness of biaxial geogrids is predominantly in two directions, but with TriAx it is now multi-directional. The product has near isotropic tensile properties, through 360°. The aggregate particles interlock within the triangular apertures and the efficient, deep rib profile of TriAx geogrid helps to confine aggregate. Combined with the isotropic stiffness this creates a mechanically stabilised layer with exceptional performance.
As an alternative option to both Geotextile and Geogird layers we have a a Geocomposite layer of TriAx TX-G it incorporates the advanced technology of TriAx which is then combined with a non-woven geotextile laminated to the geogrid structure. This process provides extra filtration and separation, preventing adverse effect on performance which can created by fine subgrade particles moving up into an open-graded aggregate layer. 
For more information please visit the link product link. 
For the animated demonstration of how TriAx works see the videos below.
Geocell Ground Pavement
Geocell ground pavement is an innovative, flexible geocells for gravel stabilisation. GreenScape supply this system in two types of products which are geotextile-based geocell ground grid and high density polyethylene cellurar confinement geoweb paving.
This geotextile-based structure is used to confine aggregate, stone, gravel or soil to provide a stable surface for both pedestrian and trafficked areas, such as private driveways, paths, private car parks, golf courses and artificial surfaces sports fields. Its high tensile strength and the honeycomb structure prevent the infill from spreading thus avoiding subsidence and rutting. The loose infill material and the porosity of the base material allows water penetration, both vertically and horizontally making Geocell GroundGrid the ideal choice for sustainable drainage (SUDS) applications. The product supplied in a compressed concertina format for ease of storage and transport, Geocell Ground Grid is simply extended on site. Unfolded, each grid covers an impressive 10 square metres (length 8 m x width 1.25m).
For more information please click on the link below to visit the product page
Fabric Geocells
Geoweb paving is an economical 3D Geocell structure stabilises infill materials to construct pavements over a soft soils where quality infill is inaccessible or too costly. Stabilise challenging soft solis where traditional reinforcement methods are ineffective or require deeper, more costly base materials. Geoweb paving is a proven cost-effective solution for paved and unpaved projects.
Both Geocell Ground Grid and Geoweb Paving systems have some advantages over the other permeable paving solutions including the point that within this system you need less sub-base compare to other systems even if you work on weaker ground soils.
Geocell products have many other applications

 

such as erosion control sub-base reinforcement, slope protection, etc. We will explain them in the application relevant sections.
For more information please click on the link below to visit the product page
Geoweb Celluar Confinement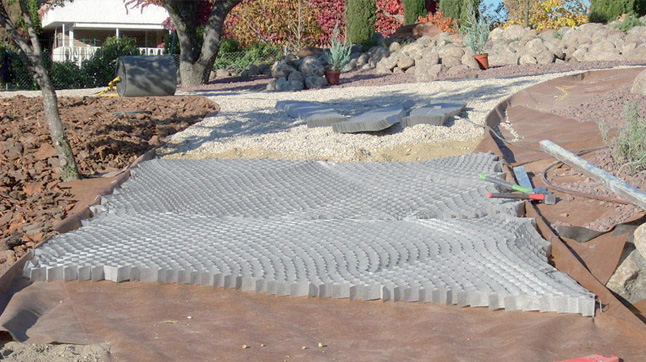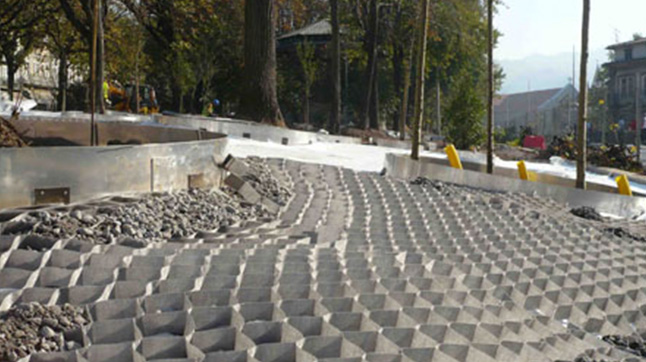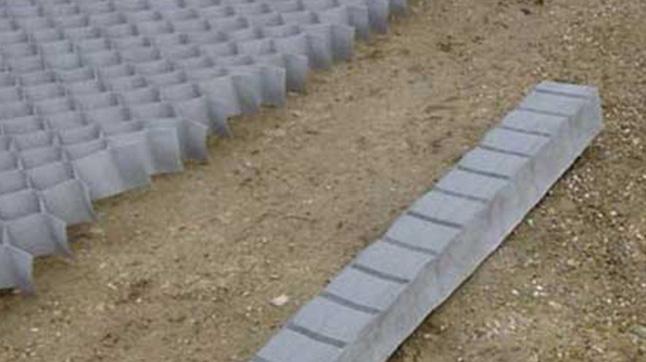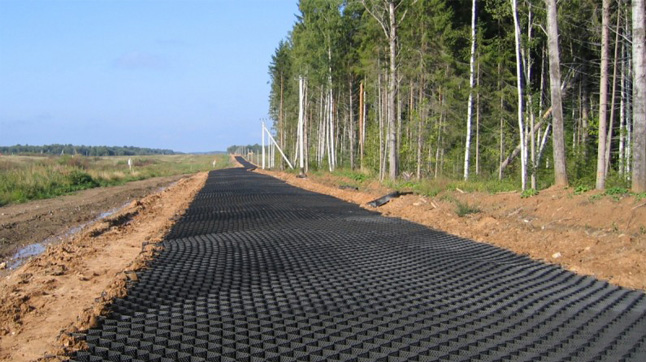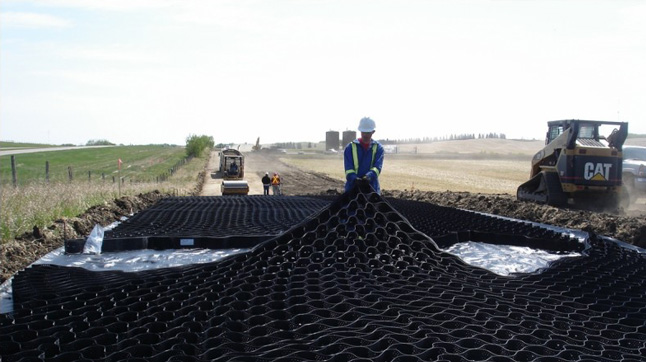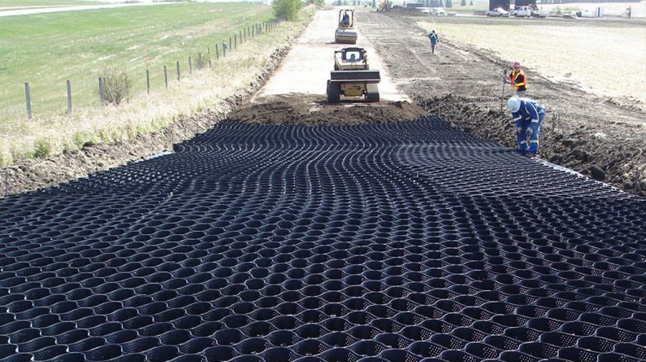 Grass Mesh
Grass paving is another possibility for projects, the main challenge with grass paving is how to protect grass roots while you walk on it frequently or you plan to make it a low traffic driveway or car park. GreenScape has Grass Mesh to solve this problem. Grass Mesh used to protect and reinforce grass surfaces that are trafficked. Installed onto existing grass surfaces, our products help reduce grass wear, abrasion and rutting by creating a strong interlock between the plastic mesh filaments and the grass roots. The grass grows though the mesh, ensuring a grass surface is preserved.

 

GreenScape Grash Meshes consist of two main types, which are TurfProtecta and GrassProtecta.
TurfProtecta turf reinforcement mesh is an extruded black or green, lightweight plastic mesh for grass reinforcement and protection where occasional light vehicle or pedestrian use is required for applications including car parking, access routes and aircraft taxiways. Supplied in 2m x 30m rolls and in two grades, 'Standard' and 'Heavy' as determined by the application, TurfProtecta turf reinforcement mesh is ideal for reinforcing grassed surfaces prone to wear, rutting and smearing which can result a muddy surface incapable of being used.
  – Overflow grass car parks
  – Grass access routes
  – Pedestrianised grassed areas
  – Grass footpaths
  – Wheelchair / Disabled (DDA) access routes
  – Front lawn parking
  – Aircraft taxiways
For more information please click on the link below to visit the product page
TurfProtecta
GrassProtecta grass reinforcement mesh is an improved heavy duty thick slip resistant polyethylene grid for reinforcing and protecting grassed surfaces prone to wear, rutting and smearing which can result in a muddy surface incapable of withstanding vehicular or pedestrian applications.

 

GrassProtecta grass reinforcement mesh has been developed with an oscillated mesh structure which is designed to increase traction and improve slip resistance by up to 97% compared to standard straight oriented meshes. GrassProtecta is a cost effective solution for :
  – Grass car parksOverflow grass car parks
  – Pedestrian pathsDisabled (DDA) access routes
  – Light aircraft taxiways
  – Grass verges
  – Caravan park access and caravan bays
  – Front lawn parking
For more information please click on the link below to visit the product page
GrassProtecta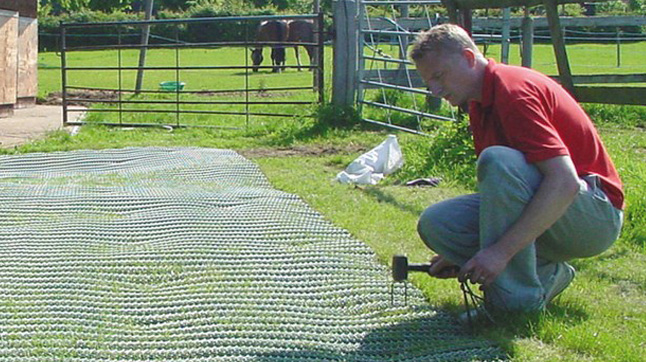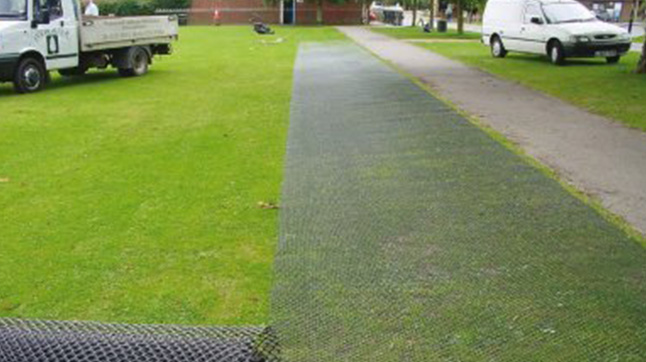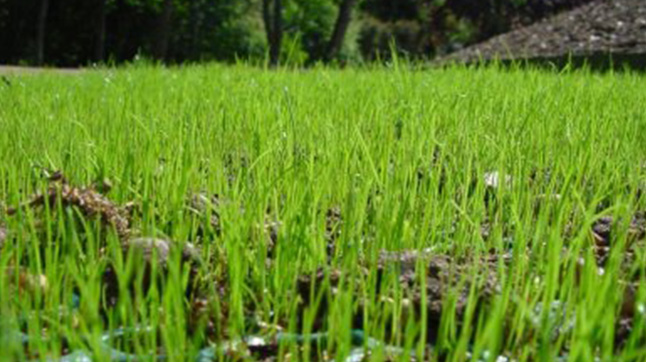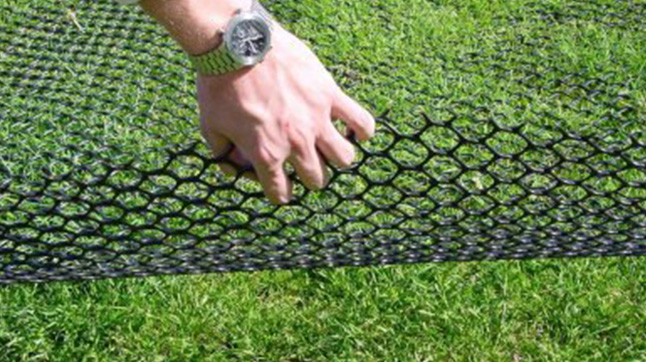 Play Ground Safety Mat
Children play grounds inside gardens or parks needs to be treated properly, the main requirement for such area is to be soft and safe for children. GreenScape provide a new product for children play areas which meet the safety conditions as well as it has permeability features.
Safety rubber mat is an environmentally friendly, non-slip, impact absorbing safety and footway matting surface. The safety rubber matting is ideal for children's play areas, playgrounds, most multi-function play frames, springers, swings, fitness/fun trails and pathways. The rubber safety mats are manufactured from recycled rubber and are easily installed on existing grass. The rubber safety matting is simply pegged to the ground, allowing the grass to grow through the mesh apertures creating a natural grass finish whilst offering the benefits of a safety surface beneath. Safety rubber mats have many benefits including :
  – Absorbs shock and noise
  – Critical fall height of 3 metres, tested by RAPRA
  – Tested to BS EN 1177:1998 3 Metre Critical Fall Height
  – Moulded non-slip cellular structure with excellent 
durability and comfort
  – Requires no special skills or tools allowing a quick 
and easy installation
  – No costly base works (as required for conventional tiles or wet pour)
  – Ideal for green field sites, disappears from view once turf 
has re-grown
  – Can be used on flat or contoured landscapes
  – Suitable for all weather, extreme temperatures and resists wind uplift
  – Large openings of 2.5cm diameter allow liquid and debris to drain, keeping surface dry and clean
  – Wheelchair and pushchair accessible
For more information please click on the link below to visit the product page